Brain Booster:
This Kundalini class incorporates Kundalini Kriyas for the brain. This class will be "Boosting" the brain by increasing blood supply, which helps sharpen the mind and also improves the nervous system.
By the end, there will be a mini Brain lecture about Kirtan Kriya on behalf of The Alzheimers Research and Prevention Foundation. Arezu will refer to the brain scans and research done on the meditation benefits from leading medical schools in the US. Kirtan Kriya has been proven to reverse memory loss, as well as: reduces stress, depression, anxiety, and inflammation; while improving sleep quality, creating healthier, younger genes and more.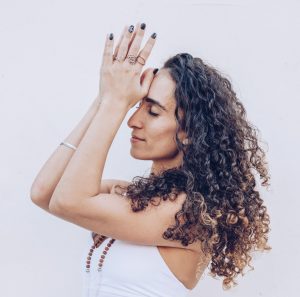 Arezu has been a practicing Kundalini yogini for over two decades. Under the wing of Gurusingh, she became one of the youngest KRI certified teachers at the age of 14.
Arezu is a Certified Brain Longevity Specialist. She is a dedicated advocate, infusing her yoga teachings to help spread awareness and prevention techniques for Alzheimers. She is an Ambassador for the Alzheimers Research & Prevention Foundation (ARPF) founded by Dr Dharma Singh, along with Maria Shriver's Womens Alzheimers Movement (WAM).
Her life mission, is to use the mindful practice of yoga as a platform to inspire, unite and uplift all those whom she comes across, hoping she inspires YOU! She created InspireZu (www.inspirezu.com) to spread that teaching across the globe, follow her journey at @inspire_zu.